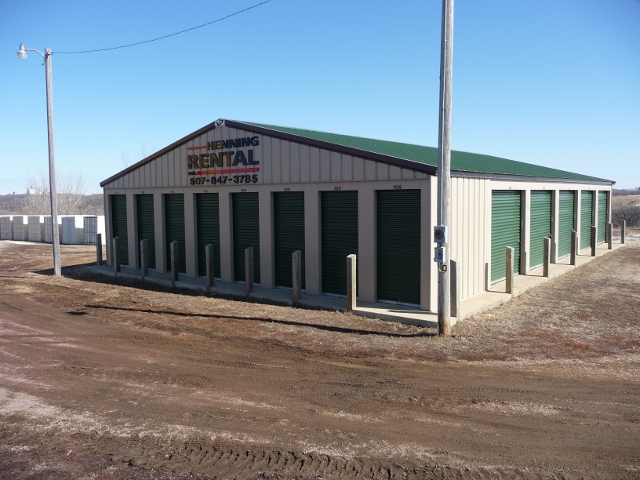 Constructed in 2005
Security Lighting
24 Hour Access
Police Patrolled
6 Standard Sizes to Choose From
Convenient Location 1/2 Mile South of Jackson on Hwy 71.
~If paid for six months in advance -7th month free.~
~If paid for 10 months in advance -two additional months free.~
Is it safe and secure?
Customer supplies Padlock and keeps key. Sight has security lights and is police patrolled. Faciliy is on major U.S. traveled Highway.
How do I pay?
Pay for 1st month & security deposit at time of rent, Customer recieves bill at the end of each month. Payment due 10th of each month.  We also accept the following credit cards:  MasterCard, VISA and Discover
Length of Contract?
Month to Month or if customer chooses, can be longer with discounts.
Any Discounts?
Six months paid in advance get 1 month free. 10 months paid in advance gets two months free.
How do I cancel the agreement or give notice?
Written fifteen day notice.
How do I contact the owner?
What may I store?
Most anything. EXCEPT: Hazardous materials or a vechical with gas and battery in it.
What are the sizes of the door openings on the storage building?
Small units are 8 foot High and 3 foot 8 inches wide. All others are 8 foot high by 8 foot and 8 inches wide.
How high are the ceilings in the storage building?
You can stack your items from 9 foot 4 inches inside door to a height of 14 foot and 4 inches at peak of ceiling.
What if I move into the building in the middle of the month?
Your rate will be pro-rated for the month.
What size do I need?
Commonly -a 10ft x 20ft unit will hold a average 3 room apartment.
Is a security deposit required?
Yes- one month of rent in advance + security deposit of same amount which is refundable when you move out provided unit is not damaged and cleaned and rent is up to date.